Cute Look Toddler Boy Hairstyles In 2020
Are you looking for a new fresh look for the little boy haircuts then you have to stand in the right place? We have everything for your little guy. As the little boy gets older he develops own personality. There are a ton of best Little Boy Hairstyles. Hair cuts look charming and sweet on boys of all ages. The most famous little boy haircuts are typically longer on top and shorter on both sides. Short, medium, and long hairstyles for little boys are good for straight, thick, thin, wavy, or curly hair.
Make your boys cool dud with flipped style. I'm a crisp and clean out style. Try this year's flipped style and make the look cute and clean.
2.Short Messy Hairstyle
Messy is not a long hairstyle. This awesome short hairstyle is the perfect example of a good little boy's haircut. In fact, this tousled and spiky crew cut works for all hair types, especially for boys with thick hair are such a nice style for boys. If you're searching for an easy to get, simple to style haircut, this is a great-looking idea. Check the bellow short messy little boy Haircuts with images.
3.Short Sides, Long Top Haircut
The most used hair cut side short and top long cuts for the little boy. The natural texture on top balances the shorter sides to create a modern look that is nicely-suited for any occasion, whether it's a play date or a formal event. Moreover, short sides, long top hairstyles can be styled into a comb-over, quiff, slick back, spiky hair or faux hawk. Let's check the short side and long top hair cuts for your dear little boy.
4.Little Boys with Curly Hair
Curly haircuts look nice on boys for all ages. Curls can suit any little boy's personality. Curly haircuts are often short and paired with a curl-enhancing cream for easy styling. Curl makes charm to little boy look. If your baby has curls then bay is lucky. Short layers of hair and a bit of styling product work together smoothly to keep each curl separate.

5.Gentleman's Look Side Part
All the awesome look toddler boy hair cut is here. How your baby looks, gentleman. This haircut includes a few inches of length on top paired with a short, high fade. The side part fade is stylish enough for a wedding and other festivals, but still fashionable and casual enough for a day at preschool also.
6.Ivy League Crew Cut + Spiked Front
This hair cut is famous among the toddler and all men. These chic toddler haircut styles are a snap for barbers, and with a little bit of practice, this hard part and the spiked front is easy for parents and kids to style for school. Apply a good product for a hair comb. Ivy league crew and the spiked front combination is formed the best style for small boys. Let's check the awesome little boy hairstyles haircut for the toddler.
7.Faux Hawk with Undercut
There are several hairstyles is in the market which are perfect and marvelous. Faux hawk fade and undercut hairstyles have been trending strong for toddlers, especially as adorable haircuts for 1 to 3-year-old boys. Give a 2 or 3 inches space on top. short tapered highlights the styling and makes the look awesome.
8.Comb Over Fade + Hard Part
This style takes time to work straight. The longe hair on top head  is accurately  offset by the hard part that is shaved in. With a little pomade, gel, wax or cream, keeping the brushed over hair in place all day is a breeze. Check this style with bellow images.
9.Faux Hawk Fade Haircut
Faux hawk fade is the right haircut idea for toddler boys with a high skin fade on the sides for extra contrast and thick, long hair on top. Faux is one of the coolest thinner little boy haircuts.
10.Slicked Back Undercut Boy Little Boys
First straight hair on top can be trimmed between 3 to 6 inches above, left enough length space to slick the hair at the back.  First, You can apply a strong pomade with some shine and run it throughout your hair. You can use a comb to brush your hairs to the backside. Check the slicked back little boy haircuts images given bellow.
11.Long Fringe + Short Sides Haircut
This long hair will work with all hair types. For instance, your child has thin hair. This cute yet edgy little kid hairstyle has been popular in recent years. This thick and longer hairstyle can work well with all hair types. If your kid has thinner and silky hair, we recommend styling with wax for a thicker, fuller look.
12.Messy Long Hairstyle For Little Boy
You can use shampoo and air dry to get the stylish textured waves. You can use the light-hold product for extra shiny look and control, especially if your little child has frizzy hair.
13.Textured Spiky Hair Fade Haircut
Sort to medium length hairstyle gives a clean-cut to baby hair. Textured provides a handsome look. The best think about a spiky hair fade is that it can quickly turn into a fohawk, quiff, brush back, or French crop top also.
14.Modern Quiff + Undercut Haircut
The modern quiff hairstyle is perfect for those little boys who go to preschool, elementary, middle and high school. If you think your little boy is mature and gentle for his age, this good-looking quiff and undercut combination is simply sublime. Let's get the short look modern quiff little boy haircuts.
15.Naturally Curly Hair Look
If your little boys have curly hair. The haircut bellow is layered and styled messy, which makes the hairstyle super and stylish simple to wear.
16.Shaggy Mop Top Hairstyle
This hair cut is trending know for all older boys. Parent favorite hair cut is shaggy, especially for little guys who happen to have a bit of natural wave or curl to their hair. Bellow is shaggy hairstyle images which will amuse the parents a lot.

17.Wavy Hair on Top Hairstyle
One of the cutest look haircut for little boys. Wavy gives an innocent texture and shine look. This style contains a has its own unique look. The layers on top mix the shorter cut on sides.
18.Buzz Cut Fade Hair Cut
This style works best in the summer season. Mom and dad always select the styles which require a little styling. This style is buzz cut is edgy and awesome. If you want an athletic haircut for your little boy or just want to save time styling his hair for school every morning then this buzz cuts are a perfect choice for little boy cuts.
19.Spikey styles  For Little Boy
This style can be in many styles due to uniqueness and stylish look. This beautiful and cute look is a great style for any kind. Keep scrolling down to see cute little boy haircuts.
20.Long And Flipped Hairstyle 
This style is short on sides and long on top. It is a very pretty style you will love this style surly. Let's take a short look at the flipped hairstyle for little boys.
21.Most Trendy Style For Little boys
A unique and stylish style that is going to make your boy super cool and stylish.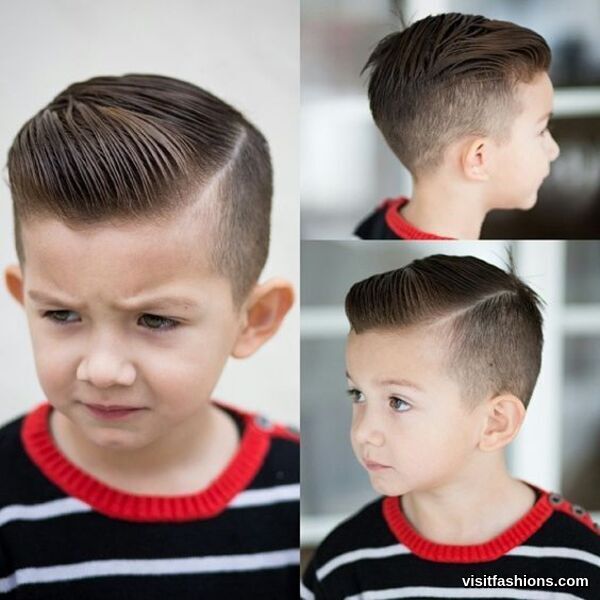 22.Bowl Cut For Little Boy
This style has never gone old still it is famous and cute in look. Check out the most trending bowl-cut hairstyle for the little boy.

23.Spiked Styles For Little Boys
How does cute look your little boy. Select this spike style asked your barber to make your look like bellow images.
This casual look style is best for daily routine if our baby has a vacation from school you can select this style.
25.Simple And Classic Short Style
This simple style is never to be gone old. How could you not love this cute style? It's short and it will only take moments to style. This cute style very simple and pretty well.
26.Long Layered Hairstyle For Boys
Long players' haircuts often center on creating the illusion of thicker, fuller hair. The choppy layers underneath boost the length and volume on top, making even the finest hair look thicker and healthier. Here we have compiled the pretty long played hairstyle for boys with images.
27.Long Hairstyle with Bangs
The longer style is a bit messy and shaggy for your little boy. Wonderful job of bringing the cute hairstyle together.
Fresh look haircuts for your sun that surely you will love.
Long on top and short on side styles look pretty. Side-swept look very pretty and give a stylish look.
This short fresh style is perfect and suitable for a little boy. Mom and dad will surely like this style.
This style is longer on top, but it's styled in a very different way from the rest. It's flat on the head and styled off to the side.
Check beautiful vibes style for little kids here.
This polished look style here for you. This style gives shine to a hair cut. Check polished styling for baby.
It is another messy look style that is perfect for every little boy. 
Beautiful straight lines hair cut is hee for your little boy.
36.Clean Cut Styling For Little Boys
Check the latest cute cut styling for little boys given bellow with images,
37 
Beautifull bangs styles will surely like your boys. Check the trendy look style collection for you.
38 
A cool new and stylish fresh  look is exactly what your child needs this 2020 and this mohawk is an edgy style for baby style.
That's a truly unique style for a baby look. This edgy style is the best one for your boy. Check the pretty and cut style for the child.
40. Wispy Fringe For Little Boys
It's an easy and simple haircut for toddlers in which we have lengthwise cut into longer strands on the top for creating that wispy fringe.
41.Undercut & Top Knot Style
This new style will look cool for your little boy. Check the beautiful look little boy hairstyles collection.
42.Mini Mohawk Combined With Curls for Little Boys
This style is easy to style and looks stunning as well.
43.Surfer Haircut For Little Boys
The beautiful surface hair cut for little boys is here.
44.Hipster Taper Haircut For Little Boys
It works perfectly for a toddler