Punjabi Kurata Pajama Collection For Men
When traditional functions and events came up the first dress that comes to our mind is Punjab kurta and pajama. We immediately check on the kurta and pajama set that will be suitable for every occasion and event. This comfortable attire is best and suitable for all ages. Here is a variety of Punjabi kurta pajama designs with images available to choose from. Eid is a special day for every Muslim so we have brought a Kurta collection for this eid.
Stylish Punjabi Kurta Styles For Men
Are you interested in wearing a Punjabi kurta?. Here is a grand and stylish kurta with pajama that is available for you Punjabi kurta pajama to choose from.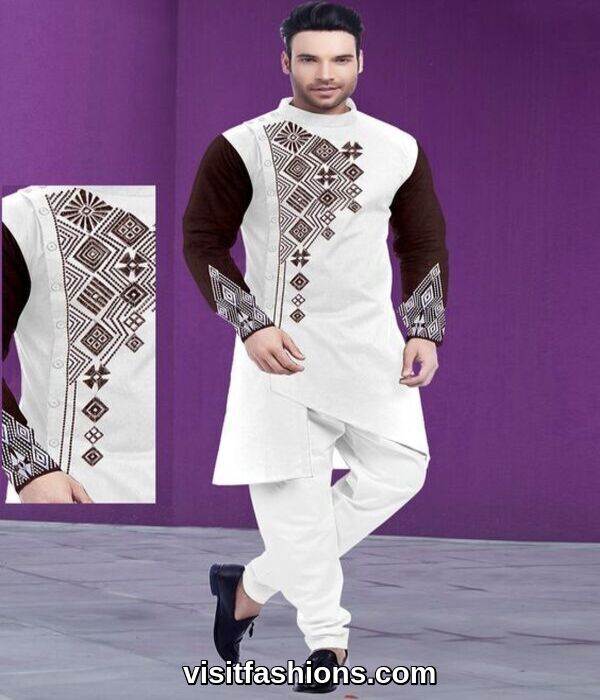 White Kurta Pajama
This attire is one of the most preferred Punjabi kurta pajama for Eid Namaz. This beautifully designed kurta is done with simple chikankari work with white thread. It has a short circle Nehru style collar. This is really a nice rich and elegant set. Punjabi kurta has been the most common choice by men. Nowadays various kurta styles are coming up so have a look at these Designs.
Blue Punjabi Kurta Pajama
Let's take a look at the blue kurta pajama Punjabi style. The blue color is considered to be a very cool and eye-catching color as you can see how good looking this Kurta pajama is in blue color and I hope you are going to like this design too.
White Punjabi Kurta
Stylish white kurta design is known as Indian Punjabi pajama kurta.  It has a Pakistani touch too. The best quality is comfortable as well as durable. It is suitable for casual wear with pant style pajama. This kurta style has two upper pockets and one side pocket.
Best Well Stitched Punjabi Kurta 
Having such a kurta design makes the men look, gentlemen. This kurta pajama may surprise you while buying it and it might be possible you will buy more quantity than you are willing to buy or you required because of its beautiful design. Here is a well-stitched Punjabi kurta for you.
White Kurta With Gray jacket
This type of Kurta is suitable for national events. This kurta has a Chinese collar and buttoned in the front. The thin gray lining to the cuffs and placket attract others. The jacket with two pockets down and on the top pocket look marvelous.
Solid Punjabi Kurta Pajama
New and trendy Punjabi kurta pajama style for men. This pajama kurta is made from 100% cotton and fits for the festive occasions as well as casual. The striking feature of this kurta is a buttoned style on the front.
Red Punjabi Kurta Pajama
Here is a  red Punjabi kurta for men. It has a great and ethenic look. The fabric of this attire is really comfortable as it is cotton. The simple classic neck style opens at the front with a simple yet lovely white button. So it will be more beautiful with white pajama.
Cowl Style Kurta Pajama
This is a very fashionable and trendiest style kurta pajama set for men. this kurta is black of Royan material whereas the pajama is perfectly stitched. The neck is Chinese extending into a placket that is enhanced with buttons.
Orange Punjabi Kurta
Let's rock your day with alluring orange silk-cotton kurta pajama set. It has two square pockets on the side. The churidar pajama with lots of gathers below the kurta. It has lovely front buttons. This cotton kurta is suitable and comfortable for the summer season too.
Black Punjabi Kurta With White Pajama
This black Kurta with white contrast pajama looks so much attractive and it can be used for casual and office wear too. The collar of kurta with straight-line buttons hook makes the kurta look more stylish. Wear this Kurta with the white pajama in the office and you will surely get good compliments from your colleagues.
Here is a navy blue color kurta pajama for men. This contemporary navy blue kurta with a straight collar button is best for casual wear. The kurta and pajama are stitched with cotton material. This is a beautiful kurta pajama that is exquisite wear for occasions like eid.
Peacock Blue Kurta Pajama
Here is another lovely Punjabi kurta pajama for men. The white color pajama and peacock kurta are new and trendy. It's one of the eye-catching outfits for eid day. The collar is designed with a little embroidery. This beautiful dashing guy looking marvelous in peacock kurta pajama.
Purple Punjabi kurta Pajama
You must check this gorgeous purple Punjabi kurta pajama. The kurta is eye-catching and it can be worn for birthday parties, special events, as well as for casual routine too. This kurta is plane stuffed and it is also wonderful for eid namaz specially in summer. This kurta is highly comfortable to wear and easy to move.
Yellow Punjabi Kurta and Pajama
These two yellow Kurtas are perfect for men. Yellow kurta with white pajama looks marvelous. This first yellow ready-made kurta style is cotton stuffed and the second kurta is best for the wedding season.
Maroon Cotton Readymade kurta
This ready-made maroon kurta is best for birthday party functions and Eid. The collar of this stuffed looks great with front piping stuffed. The pajama is perfectly matching with the kurta. We recommend you to try these stylish and best-stuffed kurtas collection.
Brown Cotton Ready-made Kurta
This brown ready made kurta style is the simple casual kurta. The comfortable cotton stuffed is best for the summer season. The beautiful white churidar pajama with a brown cotton kurta makes the matching neat and clean. Buy a cotton readymade kurta from an online store to make the special day more joyful.
Green Cotton Punjabi Kurta
The beautiful side embroidery designed kurta is looking gorgeous in the image. The stylish collar with straight stripped on the front giving a nice look. This Punjabi kurta pajama is best for birthday parties and festival functions.
Light Blue Punjabi Kurta
Simple light blue kurta for a casual routine which is marvelous for men. The lining on kurta making the attire a very fresh and unique look. It also has lovely buttons on the front with a stylish collar.
Orange Punjabi Kurta For Boys
Simple orange kurta with cotton stuffed is best for the summer season for boys. The collar with the front straight striped with orange buttons looking marvelous in the image. This Kura is available online in the market. This simple Punjabi kurta pajama  is a comfortable and casual routine. No one can believe how comfortable stuffed it is.
White And Blue Kurta Pajama For boys
Fashion is a well trend-setting for boys as well. This trending cute ensemble for children. A white and blue Punjabi kurta pajama look marvelous. it has good embroidery work on the front. The piping work and embroidery look marvelous. This kurta is best for eid day for boys.
Green Kurta  For Boys
Green kurta with the stuff of cotton is increasing the cuteness of little boy. The light embroidery work on the kurta is also looking attractive. The collar embroidery works perfectly to the boy's lovely smile with beautiful hairstyles. Make your boys look cuter by offering them this cute look Punjabi kurta pajama on the Eid day.
White Cotton Kids Kurta
This traditional look white kurta is suitable and favorite of all moms. The simple cotton stuffed always enhances the cuteness of little boys. We have many other colors collection for little boys. Keep scrolling down to see more stylish kurta designs for boys. This kurta comes up with simple cotton stuffed which is best in the summer season. Look how this cute boy looking very simple with a simple haircut in this kurta.
Red Kurta Pajama
The simple red kurta pajama with cotton stuffed looks awesome in the summer season. The image in a red cotton kurta with simple embroidery work is perfect for boys. Check this all Punjabi kurta pajama collection which I perfect for both men and boys. Red kurta with white pajama is a good contrast that looks very neat, especially in cotton. Don't miss the chance to wear this simple style kurta.
Gray Silk Kurta Pajama
Look at how cool kurta style it is with churidar pajama. The silk fabric is one of the long-lasting fabric with and it is affordable fabric in the market. How this kurta is fitted and the stylish collar is designed to have a look now. This kurta is best on a list of functions such as eid, engagement, wedding, sangeet, wedding bridal, reception, etc. This kurta is best for eid day and wedding also.  Make your eid day special with this Punjabi kurta pajama. This kurta is available at an affordable price in the market.
Maroon kurta Pajama
Are you crazy to give prince look to your baby? with an empirical collection kurta style. How this kurta style giving a royal look to the boy. The beautiful churidar Punjabi kurta pajama is the most focusing item in it.
Light Purple Kurta Pajama
Another prince looking kurta style for your baby boy check it out now.
Orange Silk Kurta Style