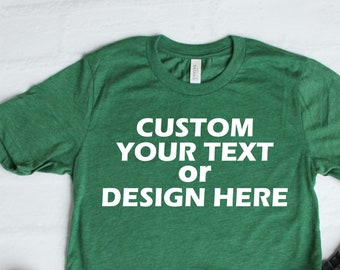 When you are thinking of cost-effective ways to promote your brand name, custom apparels are a good option. And, if you are planning to give away apparel to employees, t-shirts and hoodies are the most popular freebies. 
Now that you are all set to allocate a part of your advertising budget for these, where should you place your order? You must look for a reliable and trustworthy custom t-shirt shop near you.
Tips to remember when choosing your custom t-shirt provider:
If you look at the number of custom t-shirt providers around you, it's natural to feel confused. How can you be sure you selected the right one?
Here's a list of questions you must inquire about when researching providers in your area.
An important area of concern may be the number of items you order for. Some custom t-shirt companies may not be able to deliver large volumes of t-shirts while some insist on a minimum amount for orders. If you wish to place bulk orders, it makes sense to find out about this in advance to avoid delivery issues later on. Some providers will offer discounted rates when you order large quantities; so, research these to get the best deals.

Companies like

Custom Shirt Printings

use top-of-the-line materials when preparing their orders. But not every t-shirt printing company delivers top-quality products. The texture and feel of the t-shirt must be appealing, no matter how striking and chic the design is. So, make sure to ask the provider about the type of materials they offer for

custom t-shirts

. Read reviews about the company to be sure you aren't getting duped.

Without proper after-sales follow-up, you cannot trust a provider. After deliveries are made, there may well be issues with the products. Some could even have manufacturing defects. For all this, you need to be able to contact their customer service representatives. If the phone numbers listed on the website aren't accessible, it can be a cause for concern. Verify all contact details before ordering.

The prices and packaging of the products are definitely top in the list of inquiries you make to a custom t-shirt producer. It's no surprise that the prospect of enjoying discounts can be quite tempting. Inquire about different package schemes that the provider may offer; for instance, for weddings or college reunions.

Payment modes are typically online these days for most custom t-shirt printing companies. It's important to check whether the payment gateways offered are secure or not.

Finally, don't forget to ask them about their exchange and replacement policy. If you are not at all satisfied with the products, you should be able to ask for a replacement.
These are some of the pertinent questions that you need to ask before you place an order for custom apparel on a provider's website. To make your own shirt, all you must do is look for a reputed and reliable provider, create a design, and place an order. It's as simple as that!