Best Nails Art Designs For Girls In 2020
Nail art and design are very popular among young girls and also women. If you are looking for a new and updated nail design then this post is for you. We are collecting the latest marble nail designs for your nails, if you will apply any of these designs it will take your appearance to the next level. If you are looking for a cool new nail design then marble nail designs are just for you. You can apply these designs to your own home because it is not too difficult to apply. You just need the required tools and you can start creating these magical designs for your nails.
The wonderful thing about it is that all the patterns are so unique and different from one another. By using the water, it creates a moving pattern so that each nail will be different from others. This is the kind of look for a deviant personality, someone who wants to try something different and random. It's not only fun to create these designs but also fun to look at. You can create any pattern that you want to try with any variety of colors. You don`t need to worry about being perfect with these designs because the water is going to do most of the work for you.
Nail art is an easy way to look more beautiful, nail design will increase your appearance if you chose the right design for your nails. Marble nail designs will make you stand out in the crowd but for that, you need to pick the right tools.
The Tools You Will Need
The bowl filled with bottled water
Different varieties of nail polish
Tissues for the cleaning process
Any of Nail polish remover
Tape
Nail polish for basecoat
Clear polish for topcoat
Cotton swabs
A used towel
Scissors
Quick-dry nail spray for the quick response but it is optional
How To Apply
First of all, you need to pick your paint color and do the base coat. This will protect your nails from all the other polishes that will go on top of it. You can pick any color you want because it doesn't matter what color you chose. After that choose another clear color so that you can put whatever contrast color on the top of it. If you wanted to do the process quickly then use the dry spray. Once the nail is dry, then you have to paint white polish. You can use any color you want as discussed earlier but to start maybe go with a white for more experience. Then use two coats just need to make sure it doesn't wear off. Use the tape to place on the skin around the nails where you don't want to apply the polish. But make sure that the tape is not on the nails as well as you could end up removing your polish later on.
Now it's time to design your dreamed pattern. Add some nail polish on your brush and hold it one centimeter above the water's edge. Now lightly tap your brush until the polish drips on the water. You can also choose another your favorite color and do the same thing in the same way. By doing this more than once, you create a circle pattern on the water. If you want to widen that pattern, then take a toothpick and stir the water that surrounds the nail polish that's in the water. But make sure you don't let the toothpick touch the polish, or the pattern you are creating will be changed. If you want the perfect results then do the applying process in the right way as mentioned.
If you are looking for flower design, then put the toothpick on the third ring out of the pattern. Drag it to the center of the nail polish. And repeat this process on the other sides to create the flower pattern. Now that you have a pattern ready you can start to add it to your nails.
Now dip your finger at a 45-degree angle and you have to keep your finger immersed while you use the toothpick to roll out the excess pattern off the water. Remove your finger carefully from the water so that the pattern will not be disrupted. To keep the design like it, just make sure you spray on the dry spray. Once the pattern is dry, you can draw out the tape. Take the cotton ball and dip it into nail polish remover and remove any excess nail polish from your skin. In the end, the thing you need to do is to apply a clear coat on top, and now you're finished! Simply repeat what you have done with the rest of the nails and you will have beautiful marble nail art design to show all your friends.
25 Most Incredible And Unique Marble Nail Designs
We have a collection for you of the 25 most incredible and unique marble nail designs below that You Can try at the comfort of your home.
1.Black and White Marbled Design
If you love the black and white then this is the best way to try out the marble trend add a couple of accent nails of classic white and grey marble. This design is simple but interesting and even a little Grecian, this marble nail idea is perfect for you even if you are a beginner and is understated enough to wear to work.
2.  Pretty Almond Ballerina Pink Design
If you want that your nails should be delicate and feminine, so look no further than this almond-shaped manicure. The ballerina pink color is combined with a silver and white marble nail design to complete the look. Almond-shaped nail designs are super flattering on anyone and go perfectly with this nail art design.
3.       Squared Pink & Marbled Design
If you are a pink lover then go with a subtle light to dark dusty pink ombre and glittery accent nails in a deep rose, this nail art design is cool but girly. The pink and white marble looks almost like a galaxy and matches perfectly with the ombre. This marble nail idea would be perfect for someone with a glamorous style.
4.       Black Nails With Silver Accents Design
This Design is an awesome new take on the marble trend. Using silver foil and studs to contrast against a matte black background, these nail designs are edgy and cool. The classic white, grey, and black marble nail design stands out vividly against the other, darker nails. Wear this manicure to an art museum or gallery, and let the compliments roll in.
5.       Short Purple Stiletto Marble Design
Dark purple is a popular winter or falls nail color and it's easy to see why the hue is striking and stylish and flatters any skin tone. This manicure has a short stiletto shaped nail, making it an easy intro to the stiletto nail trend as well as the marble trend. Accent nails with a cool shade of purple glitter make the marbling really stand out.
6.       Glamorous&Glittery Purple Marble Design
The rounded, short nail shape of this design doesn't mean that it is not an awesome statement accessory. Deep, royal purple is mattified and purple glitter accent nails quickly draw your attention. The marbled accent nail uses white with purple instead of grey to pull everything together and give the look an interesting twist.
7.       White to Black Ombre Nail Design
Ombre nails don't have to be impossible! This type of ombre is going from a lighter to darker color across the manicure makes it accessible for anyone to rock this trend, regardless of nail art skill. The accenting marble nails add some dimension and make this edgy, punky design a little artsier.
8.       Translucent Glittery Blue Marble Nail Design
This design is not for the faint of heart but would look completely awesome for a glam night out or even just for a Tuesday. Hexagonal iridescent blue glitter shines from within translucent nails, accented by blue and white marble nails. This bold nail look is perfect to modify your inner mermaid.
9.       Grey Stiletto Marbled Nails with Crystal Design
Crystal accents in a triangle shape at the base of the nail accent the stiletto shape, making it seem more severe. The dark grey nail polish color makes for an interesting marbled effect. The primary color in the marble is the dark grey, with white accents shot through. This makes for a nice reverse marble effect for nail art lovers.
10.   Marbled with Pink Glitter Design
A glittery pink accent nail design on the pinky fingernail of this manicure amps up the glam factor and continues it throughout the look with some pink glitter polish detailing. The marbled nail design is front and center in this mani, with the interesting twist of pink polish mixed into the accent nails.
11.    Midnight Blue Design
If you love blue then you can't go wrong with this startling blue color with some crackle marble as an accent.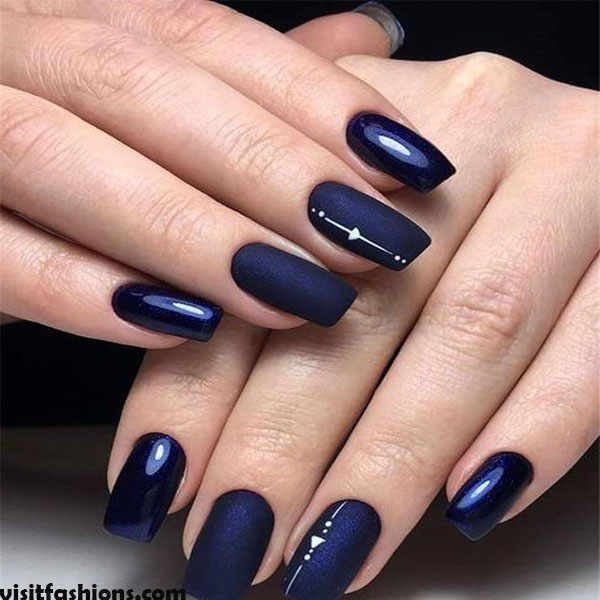 12.   Alien Design
If you are looking for something really different and unique, then try this marble design for your acrylics. This will surely draw some attention.
13.   Light Design
This is a simple design with a white base coat, Add the marble design on top of it and you go ready to go.
14.   Black Marbles Design
If you love the black then this nail design really will give you a badass look, if that's what you really want.
15.   Long Nails Design
If you have longer nails and you like the longer look, then this is a great example of the black marble design on the longer nails.
16.    Multiple Colors Design
If you are a color addict then why always choose only one color, you can go for a multiple color design for your nails.
17.   Coral Love Design
I love this marble design with coral and blue together as it is beautiful! A great way to make a nail style unique is to add in different designs like sparkles. It breaks up the look and creates something unique.
18.   Camouflage Prints Design
If you want something bold, then you can't go wrong with these designs. Some of the nails are sparkles while others are a form of camouflage prints. They look amazing together, creating a different look.
19.   Bold Pink Design
If you are looking for a bold color to update your nail design then this design is for you do not go anywhere else just try this one.
20.   Marble Blue Design
Another great example of a blue marbled look using multiple shades for your nails.
21.    Pink and Red Design
You can make a combination of pink and red designs. A great design that can surely make anyone happy.
22.   Sparkle Design
Another incredible design we have is sparkle design for your beautiful nails. This makes marble more magnificent with some serious sparkle. This black and silver design is stunning for your nails and would look great for a night out on the town.
23.   Pointed Nails Design
If you are a fan of the pointed nail shape, then this is design is for you. This design is a great example of a marble look with that shape.
24.   Dark Marble Design
If you are looking for a dark shade then try this dark marble design for your nails.
25.   Black Desire Design
Now we have Black Desire Design for you, it is a  great design that you can use for any season or any event in short at any time.