Best Bridal Dresses In Pakistan For Wedding
In Pakitan bridal prefers to wear at her wedding Bridal Sehari, Lehnga choli, Bridal red velvet, Wedding Sharara, Bridal Ghagra, and Anarkali Frocks. Floor-length frocks, Bridal gown, Sharar Kurta, Which is designed by different designers. There are some fabrics which are used for wedding Chiffon, crepe, silk, organdy, Tissue, organza, cambric, rayon, and charmeuse. These fabrics are mostly for the bridal wedding. Different kinds of embroidery work are done on it such as zircon, kora, crystals, applique, data, zardozi, stones, pearls, cut dana, sequence, beads, Swarovski, cut war. These materials create a stunning look for every bride. The most favorite shocking and demanding color in Pakistani bridal dresses in pink and for traditionally color is red maroon. Let's take a short look at the latest bridal dresses  in 2020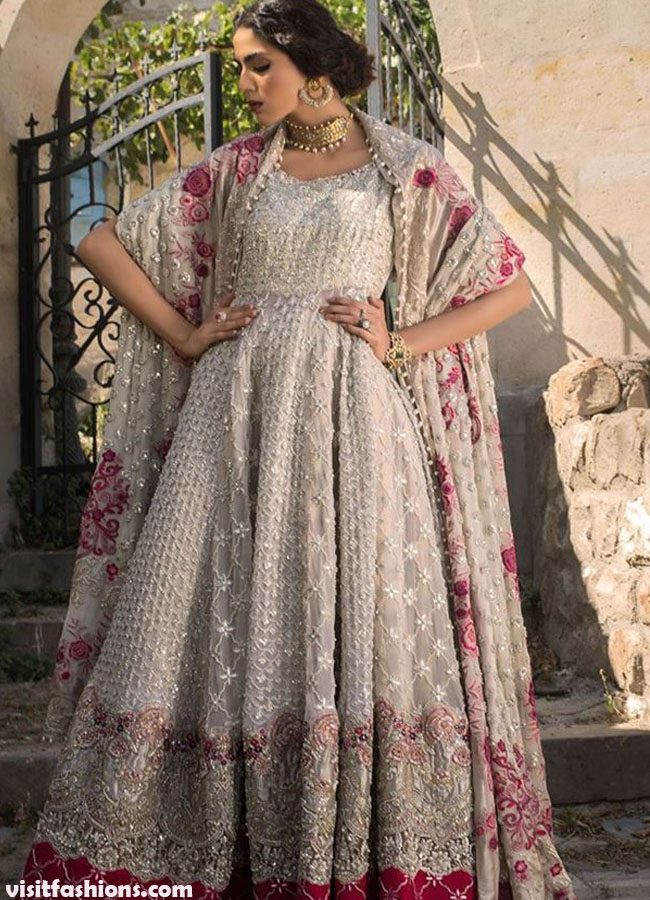 Latest Pakistani Wedding Dresses In 2020
Each function has its own importance and values. In Pakistan, people enjoy the wedding with full enthusiasm and joyfully. The whole wedding revolves around the bride especially her dressing. Majority of the people celebrate the wedding with traditional style as Jaga, Barat, mehndi,rukhasti,walima.  These events are completed when bridal has heavily embroidery bridal dresses. As we are well known about the yellow color which is worn on mehndi function. Yellow colors make the bride look innocent. A Pakistani wedding is doesn't consist of a one-day celebration this is the celebration of 3 or 4 days. Everyone looks busy to look beautiful.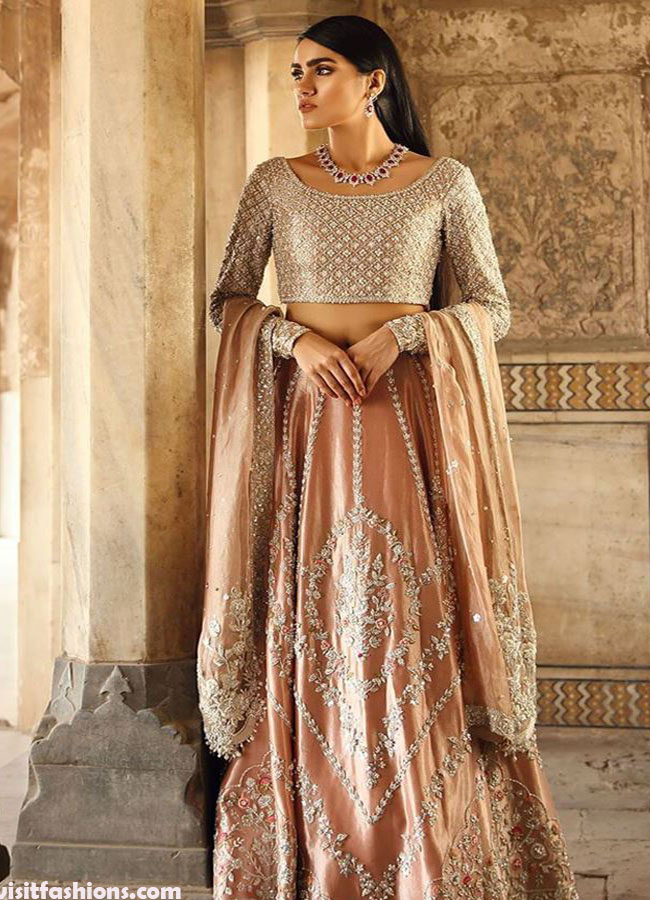 The best choice of dress makes the bridal prominent among others. The bride and groom are the main personalities and characters who notice the whole wedding. The expensive and heavily embroidery dresses are the key to bridal beauty. Usually, every bride looks conscious of bridal dresses. Yellow-colored with green combination looks awesome. The bright yellow color gives a traditional look to each bride. Every mom is a desire to make her child look traditionally look. Dear bridal don't be conscious we have the latest collection of bridal dresses. So don't be much stressful here for you to solve your problems.
Bridal Mehndi Dresses In Pakistan
In the night is more enjoy full and full of music night for mehndi lovers. As you know fashion is changing day by day and new varieties are launched every season. Every year styles are change and new verities are launched in the market. Here we have compiled various kinds of mehndi dresses with different colors. These colors will look fabulous. These all are embroidered latest bridal dresses in 2020.
Bridal Barat

Dresses In Pakistan
Bridal always select luxury embroidery dresses for Barat day. The most chosen for Barat color is red. The red color gives a traditional look. This is a special day for every bride. Barat is the name to buy o waer a luxury embroidery dress. This kind of dress increases the beauty of brides. The bride is the only special character which is a notice at a wedding in a stylish dress. In Pakistan, many online stores providing the best and expensive luxury outfits for Barat functions. Every bridal is to wear branded embroidery-stitched dresses at their wedding. We have searched the best bridal Barat dresses in Pakistan.
When you imagine the best bridal first thing that comes in mind is the royal dresses of the bride for Barat day. Bridal has many options for this day like lehenga dresses, floor-length frocks, Anarkali frocks and sharara with a shirt, etc. This article can help you to select the best dress for Barat day.  In this article, you find the latest bridal dresses in Pakistan for Pakistani bridal. Let's scroll dawon  you can explore latest bridal dresses in 2020.which
Walima Dresses In Pakistan
Walima is the function where and groom and bridal family and other relatives meet fie lunch. It is a precious day where bridal shows her beauty in front of people. Walima is very essential. which is celebrated after Barat functions. In Pakistan, this function is celebrated very joyfully. Latest walima bridal dresses would inspire you a lot. These all are new and up- to the requirement of the bride in 2020.  The best walima dress ideas for brides in Pakistan is as given below.
ideal maxi for walima

Casual dresses
Lehnga fancy dresses
Blue golden embroidered
Bridal Maxi For Walima Dresses
Maxi dress is one of the stylish styles. Maxi dress is incredible for every function. The maxi outfit looks best with heavy embroidery.  If the quality of the fabric is with dabki and stonework make the dresses more beautiful and stylish. There are a lot of dress styles which are best for walima function. The maxi outfit is trendy nowadays. These all are innovative and unique maxies. Dear make your day more stylish and attractive by wearing this maxi styles with heavy embroidery. Let's have look at some stylish maxies designs of bridal with different colors combination.
Top Pakistani Bridal Dress Designers In 2020
Best Pakistani bridal dresses designers are given bellow. These all are famous in the Pakistan market.  They are the best wedding dress designers. they all are a competitor of each other. Here is the name.
Maria B

Bridal Dresses Collection 2020
Maria b is the best dress competitor among the other dress designers. Maria B is the best designer dut to her good work. She is the most stylish designs.  Maira B always stands for golden and heavy embroidery work.  maria B casual and bridal dresses are also available in the market. These brands are long-term and high-quality fabrics. Maria B also offers stitched and unstitched dresses. Maria B is the most desirable dress designer in Pakistan. Maria is the first designer who launched the party wear dresses in Pakistan. She has done a lot of work in the dresses industry. She is really a derivable lady. She also has introduced the best collection of bridal dresses in 2020. She brings new dresses with innovative ideas. That way she is a famous designer.